STUDENTS SUMMIT (GOC 2022)
September 29 to October 2, 2022
at New Life Camp Ground, Ibadan, Nigeria.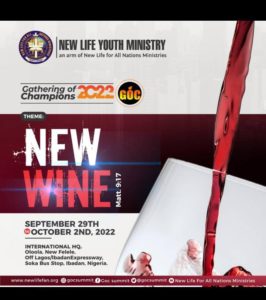 This is a bi-annual programme designed for our students.
GATHERING OF CHAMPIONS, popularly known as GOC is an interdenominational biennial conference and summit that gathers young people (teenagers, adolescents, Youths and young adults) across all educational level.
Gathering Of Champions is committed to building and raising young people who will keep raising the standard of God high in the perverse world in all spheres of life. This is done through the teachings of sound Doctrines, Worship, and Prayer.
Over the last 14 years of existence, we have been blessed with several biblical teachings, impartations, career building, educational advancement, marital blessings and other life changing testimonies, through which Young people become permanently transformed for God's use.
This year and beyond, Our heart is set upon what the Lord has purposed to do as we drink from the New Wine ready to be poured into everyone.
"Ho, every one that thirsteth, come ye to the waters, and he that hath no money; come ye, buy, and eat; yea, come, buy wine and milk without money and without price." – Isaiah 55:1 KJV
You are not an exemption from receiving this New Wine. Just come as you are to receive an Outpouring from God.
 or connect with us on all our social media platforms.
Contact: +234 (0)806 218 5743
Offline Registration: At the New Life Camp Ground.